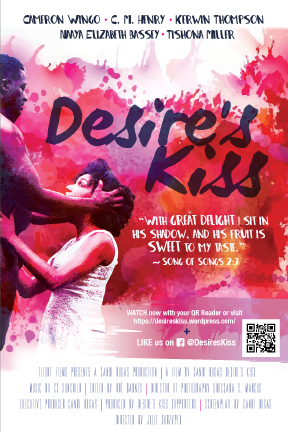 FEATURE SCREENPLAY
Desire's Kiss – an award-winning script (2013) about a young Christian woman, sexy beyond her years, who comes of age in the hands of an older lover, despite objections from her family, her faith – and her fears. Watch concept trailers + more.
FULL-LENGTH STAGE PLAY
Wild + Free – The second half of life was supposed to be a smooth journey to retirement for Creole shop owner, Sydney Augustine. After five years in a Georgia resort town, during the summer after 45's election, smooth becomes bumpy as she is caught between an old flame and her current boyfriend – while the town's white residents vehemently resist her plans of expanding her business, preferring to keep some historical secrets buried. Watch highlights + more.
30-MINUTE STAGE PLAYS
"eye of the storm" – At a southern bus stop in the 1950s, Walter and Charlotte's unique connection plays out as the backdrop of the times swirls around them.
"That Day" – They'd been friends since forever. After one phone call, all of that changed. How do they go on from there?